Workshop Belgrade, 14-16 April 2011



The second meeting of the Working Groups of COST Action WWIH took place in Belgrade (14-16 April, after a COST MC meeting on April 13). It was organized by Biljana Dojcinovic, in collaboration with other members of the Serbian team of COST Action IS0901, and the Faculty of Philology of the Belgrade University.


The three days were work meetings for the Action members; yet external visitors were also invited, and were actually present.


During this workshop we continued the presentations and discussions of the first COST year, from which we have tried to draw some conclusions ("Milestone 1"); at the same time we prepared the November conference ("Milestone 2"). Just as the Turku workshop constituted a preliminary meeting preparing the Madrid conference, this Belgrade meeting relates to the Chawton conference of November as an (internal) brainstorming session to the presentation of results.


During our second COST year, preparing the 2nd "Milestone", we are focusing on "qualitative and comparative research". Ideally selection of the texts discussed will have taken place on the basis of their quantitative importance. But the papers presented also discussed the works' "qualities", in particular their degree of "femininity", "feminism", "normality", "transgression", as perceived by contemporaries.


In relation to this, the links between writing, communicating, networking, embroidery and gender were also researched - on different levels. Knowing that women authors themselves have often been comparing between the (writing) pens and the (sewing or knitting) needles - the latter being judged much more corresponding to "femininity" than the former -, we also discussed and opposed during the workshop these and other (more or less "typically") women's activities. The more so because one of the famous literary works of Serbia is actually a text embroidered embroidered by a woman: Jefimija. For her, and other European women, we tried to understand the women's degree of (non-)conformity to the doxa, and their willingness to participate in public debate.



Programme:


Thursday, April 14th: presentations of work in progress


9.30

Welcome by


Aleksandra Vraneš, dean of the Faculty of Philology in Belgrade,

Biljana Stojanovi?, COST National Coordinator for Serbia,

Biljana Doj?inovi?, Coordinator of the Serbian COST Action IS0901 Team


9.50

10.10

Discussion (general issues)


10.20

Ele Carpenter (Goldsmiths College, University of London):


The Embroidered Digital Commons. Presentation of the project initiated some years ago, and going on since then in different countries of Europe - a parallel activity, indirectly commenting in a particular way on our scholarly discussions about femininity and the question if writing belongs to it.


10.30

10.45

Session I "Networks and Genealogies"

Chairperson: Vanda Anastacio

13.00

14.00

Session IIa "Male-Female Transvesting"

Chairperson: Henriette Partzsch

Session IIb "Evaluating Women Authors"

Chairperson: Gillian Dow

15.30

16.00

Session IIIa "Norms and Exceptions"

Chairperson: Viola Capkova

Session IIIb "Gender vs. National Identities"

Chairperson: Hendrik Schlieper

18.00

Chairpersons of the day: Preliminary conclusions


19.00

Friday, April 15th: discussing the work in progress


9.30

Presentation and discussion of WomenWriters database and related ICT projects and items:

GertJan Filarski (see his presentation)

Astrid Kulsdom

Carme Font Paz

Suzan van Dijk


11.00

11.15

Separate meetings of Working Groups 1, 3 and 4 (see agenda in Action site (uploaded file))

Chairpersons: WG leaders


13.00

14.00

15.00

Continuing the meetings per Working Group (WG 1, 3 and 4)

Chairpersons: WG leaders


17.00

17.30

Common meeting:

Each WG presenting items and ideas considered important and to be discussed

Conclusions concerning possibilities for links between WGs

Preparing the Chawton meeting in November


Chairpersons: Vanda Anastacio and Henriette Partzsch


19.00

Saturday, April 16th: "International Female Networks" (presenting the COST Action)


10.00

Welcome (Biljana Doj?inovi?)


10.15: Morning session chaired by Ivana Panteli?

Keynote Lecture

Aleksandra Vraneš (University of Belgrade):

11.00

11.15

12.00

Important announcement

Biljana Doj?inovi?:

13.00

14.00: Afternoon session (1) chaired by Zorica Be?anovi? Nikoli?

Presentation of COST Action Working Groups (outcome of meetings yesterday)


Nicole Pohl:


Models and Theories (WG1)


Hendrik Schlieper:


Selection and Use of Relevant Sources (WG3)


Gillian Dow:

Dissemination and Extension of the Research Network (WG4)


15.00

Ljiljana Markovi? (University of Belgrade):

15.30

16.00: Afternoon session (2) chaired by Jelena Pilipovi?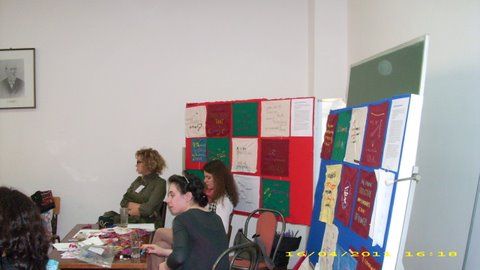 AsK, September 2012



---